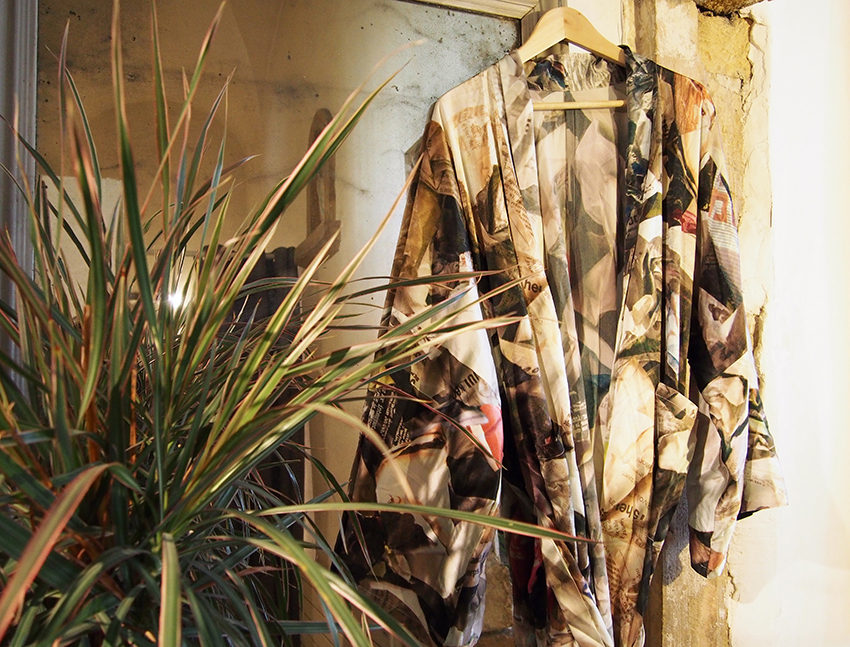 15.09 2014 - 3.01 2015

WANG DU / SHAUN GLADWELL / FABIEN VILLON / ANNE DE VRIES

Artists Wang Du, Shaun Gladwell, Fabien Villon and Anne de Vries use domestical space as a way to experiment the borders between art and object, materiality and virtuality, nature and technology. With Paul Virilio as a father figure, site specific installation, collective and individual artworks, objects, writings, artefacts are intermigled into a private apartment.




Being in tune with today's world, it's finally traveling from home, using its own tablet computer or mobile to navigate. Species of space, the apartment is reassuring, it becomes a reflection airlock in which the visitor can read, touch, use, wear the works or contemplate it as landscapes. All have in common an idea of disorientation: Wang Du's silk bathrobes made from news images or advertising, Shaun Gladwell's video in which his body is submerged into the pacific waves, Anne de Vries hybrid work between sculpture, object and interior design, Fabien Villon's painting made by printing crashed windscreen on the remains of an advertising image or the common work by Shaun Gladwell and Fabien Villon in connexion with Paul Virilio, setting a library available to the visitor.

« If Derrida has invented the concept of deconstruction, I have experimented disorientation »

(Paul Virilio)

Les artistes Wang Du, Shaun Gladwell, Fabien Villon et Anne de Vries se servent de l'espace domestique comme un moyen d'expérimenter les frontières entre oeuvre et objet, matérialité et virtualité, nature et technologie. Avec Paul Virilio comme figure tutélaire, installation spécifique, oeuvres individuelles et collectives, objets, écrits, artefacts s'entremêlent dans un appartement privé.


Être en phase avec le monde d'aujourd'hui, c'est finalement voyager de chez soi, utiliser sa tablette, son ordinateur ou son portable pour naviguer. Espèce d'espace, l'appartement rassure, il devient un sas de réflexion dans lequel le visiteur peut lire, toucher des oeuvres, les utiliser, les porter, ou bien les contempler comme des paysages.Toutes ont finalement en commun une idée

de désorientation : les peignoirs de soie de Wang Du réalisés à partir d'images d'actualité ou de publicité, la vidéo de Shaun Gladwell dans laquelle son corps est immergé dans les remous du pacifique, l'oeuvre hybride d'Anne de Vries entre sculpture et objet de design intérieur, la peinture de Fabien Villon réalisée à partir des restes d'une image publicitaire et d'impression de parebrise accidenté aux points de vue multiples ou encore l'oeuvre commune de Shaun Gladwellet abien Villon autour de Paul Virilio, mettant en scène une bibliothèque à la disposition du visiteur.

" Si Derrida a inventé le concept de déconstruction, j'ai expérimenté celui de la désorientation "

(Paul Virilio)


Artists Wang Du, Shaun Gladwell, Fabien Villon and Anne de Vries use domestical space as a way to experiment the borders between art and object, materiality and virtuality, nature and technology. With Paul Virilio as a father figure, site specific installation, collective and individual artworks, objects, writings, artefacts are intermigled into a private apartment.
Being in tune with today's world, it's finally traveling from home, using its own tablet computer or mobile to navigate. Species of space, the apartment is reassuring, it becomes a reflection airlock in which the visitor can read, touch, use, wear the works or contemplate it as landscapes. All have in common an idea of disorientation: Wang Du's silk bathrobes made from news images or advertising, Shaun Gladwell's video in which his body is submerged into the pacific waves, Anne de Vries hybrid work between sculpture, object and interior design, Fabien Villon's painting made by printing crashed windscreen on the remains of an advertising image or the common work by Shaun Gladwell and Fabien Villon in connexion with Paul Virilio, setting a library available to the visitor.
« If Derrida has invented the concept of deconstruction, I have experimented disorientation » (Paul Virilio).




Les artistes Wang Du, Shaun Gladwell, Fabien Villon et Anne de Vries se servent de l'espace domestique comme un moyen d'expérimenter les frontières entre oeuvre et objet, matérialité et virtualité, nature et technologie. Avec Paul Virilio comme figure tutélaire, installation spécifique, oeuvres individuelles et collectives, objets, écrits, artefacts s'entremêlent dans un appartement privé.


Être en phase avec le monde d'aujourd'hui, c'est finalement voyager de chez soi, utiliser sa tablette, son ordinateur ou son portable pour naviguer. Espèce d'espace, l'appartement rassure, il devient un sas de réflexion dans lequel le visiteur peut lire, toucher des oeuvres, les utiliser, les porter, ou bien les contempler comme des paysages.Toutes ont finalement en commun une idée

de désorientation : les peignoirs de soie de Wang Du réalisés à partir d'images d'actualité ou de publicité, la vidéo de Shaun Gladwell dans laquelle son corps est immergé dans les remous du pacifique, l'oeuvre hybride d'Anne de Vries entre sculpture et objet de design intérieur, la peinture de Fabien Villon réalisée à partir des restes d'une image publicitaire et d'impression de parebrise accidenté aux points de vue multiples ou encore l'oeuvre commune de Shaun Gladwellet abien Villon autour de Paul Virilio, mettant en scène une bibliothèqueà la disposition du visiteur.



© 2023 Interior and the collectors / Legal terms