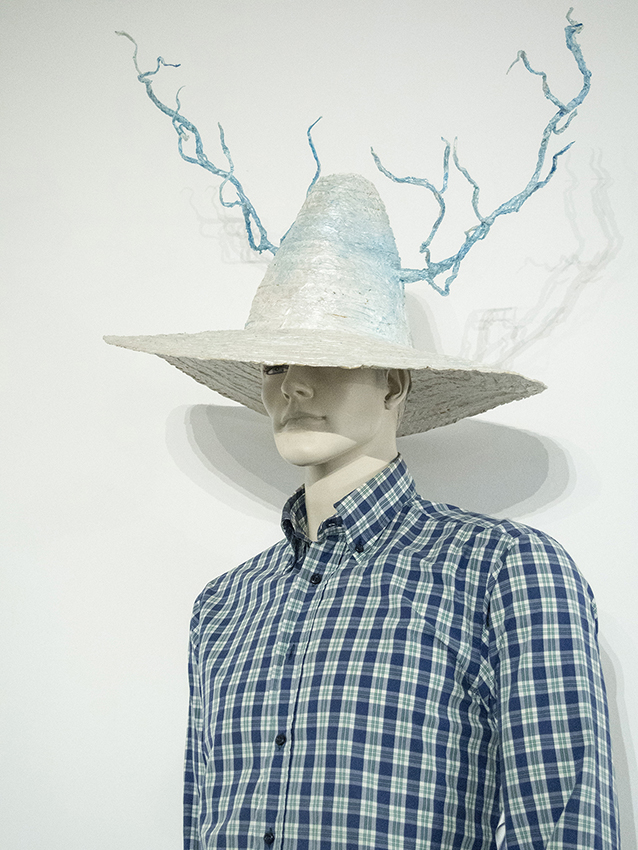 The time we are going through is an uncertain experience, an impression that nothing would be the same again. We can only hope that this key moment is an awareness for the future. It's difficult to restart without reinventing ourselves again. We had a vital need to exchange and share, to engage another format at the boundaries of art and non-art.

Interior and the collectors changes its skin to become a second hand corner with artists' clothes. Some showcase their own clothes and write a short text about it, a context, a memory, a process... Others have directly worked on their clothes to turn it into artworks, close to a painting, a sculpture, a panoply or a performance suit.

This exhibition takes place in two parts, as a free and experimental double view made of dialogues and encounters. In this first step, we host a vintage and zero waste clothing store (le point green). Artists' clothes are showcased with vintage clothes without any hierarchy, both as decoration and a place of commercial exchange. Visitors can come to see, try on or buy all the pieces on display.

This project is a form of deconstruction. At the end, what would be the value of this object? A ready-made? An artwork? Would a simple label with a text and a signature bring an artistic status to the clothes? Is it a way of questioning ourselves on the modes of production of a garment, its consumption and its future? Can the status of an art object be the only one that would prevent the infernal circuit of consuming, reselling, throwing away and exploiting poor countries?

L'époque que nous traversons est une expérience incertaine, l'impression que rien ne sera plus comme avant. Nous pouvons juste espérer que ce moment charnière soit une prise de conscience pour l'avenir. Difficile de redémarrer sans se réinventer de nouveau. Nous avons un besoin vital d'échange et de partage, d'engager un autre format aux limites de l'art et du non art.

Interior and the collectors change de peau pour se transformer en un vide dressing de vêtements d'artistes. Certains présentent leurs propres vêtements en écrivant un court texte à ce sujet, un contexte, un souvenir, une démarche… D'autres interviennent directement sur leurs vêtements pour les transformer en oeuvres d'art, proches d'une sculpture ou d'une peinture, d'une panoplie ou d'un costume de performance.

Cette exposition se déroule en deux étapes, une double lecture ouverte et expérimentale faite de dialogues et de rencontres. Pour cette première partie, nous accueillons une boutique de vêtements vintage et zéro déchets (le point green). Les vêtements d'artistes se mélangent ainsi à d'autres vêtements déjà portés sans aucune hiérarchie, à la fois comme décor et lieu d'échange commercial. Les visiteurs peuvent venir regarder, essayer ou acquérir toutes les pièces présentées.

Ce projet est une forme de déconstruction. Au final, quelle serait la valeur de cet objet ? Un ready-made ? une oeuvre ? Est-ce qu'une simple étiquette avec un texte et une signature apporterait un statut artistique aux vêtements ? Est-ce une façon de nous interroger sur les modes de productions d'un vêtement, sa consommation et son devenir ? Est-ce que le statut d'objet d'art peut être le seul qui empêcherait le circuit infernal consommer-revendre-jeter et exploiter les pays pauvres ?
© 2020 Interior and the collectors / Legal terms