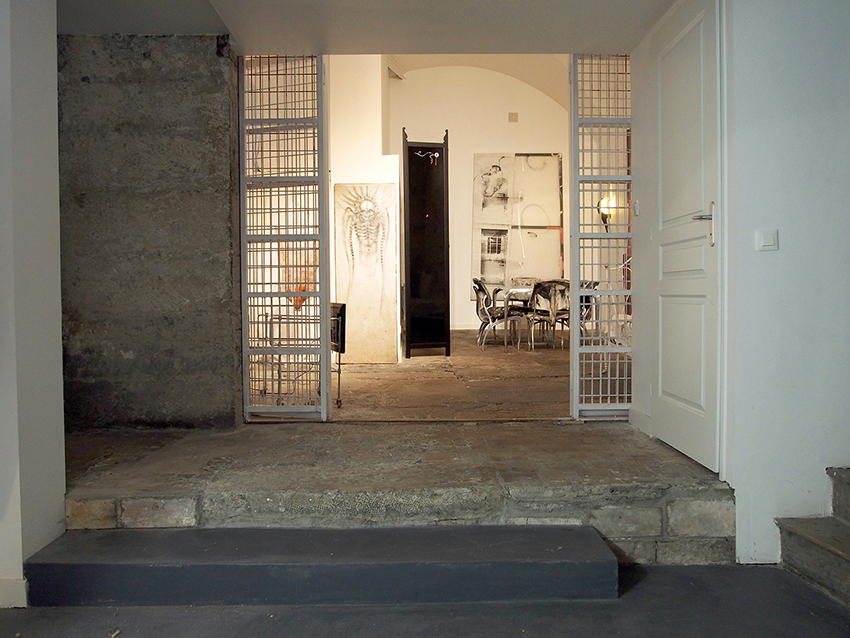 17.03 - 3.06 2017

ANTOINE DONZEAUD / HR GIGER / BÉLA PABLO JANSSEN / ELLA MIEVOVSKY / CLÉMENT RODZIELSKI / MIKA ROTTENBERG / SANDRA VAKA OLSEN / ZOE WILLIAMS
Interior and the collectors is pleased to present COLLECTION n°6 with works from Antoine Donzeaud, Hr Giger, Béla Pablo Janssen, Ella Mievovsky, Mika Rottenberg, Sandra Vaka Olsen, Zoe Williams.

Best known by the public for having created the monster of the movie Alien(1978), Hr Giger (b.1940-d.2014) has not really been considered like the french representative of the Art Nouveau movement Hector Guimard in his time. At the end of the 19th century, Guimard was only seen as a decorator, working in various fields, from architecture to furniture but also painting, drawing or sculpture. Giger underwent the same fate, widely recognized for his contributions to cinema, he never received the same critical attention for his groundbreaking fine art and design works. Quoted as a reference but not as recognized as such, acclaimed like a rock star in music and in the universe of tattooists, he has been a source of inspiration for many artists and his influence is easily recognizable in popular culture.

Collection n°6 features unknown Hr Giger's works of art and design. A never-before-seen drawing from 1978—a fantastic unfinished entity, spontaneously painted on the door of the artist's Shepperton Studio in London during the genesis of Alien's universe. Also on view are signature design pieces from the early 1990s—each a unique piece handmade by the artist with his assistant— including an aluminum dining table with matching chairs. Like the iconic creature of the movie, his protean work almost entered our collective unconscious, a total artwork full of eroticism, symbols, organic forms, monsters, passages and malfunctions. The works of all the artists interact with his themes from multiple entry points without respecting a formal topic.

Some artworks play with the perspective of the place. Antoine Donzeaud presents a painting made from the picture of a door and silkscreened on a tarpaulin found in the street. The partially apparent and de-structured frame makes it possible to see through, mixing up our landmarks a little more. Zoe Williams staged the space with a huge inverted screen marquetry representing patterns and sexual symbols.

Other artists highlight a form of disturbance, Mika Rottenberg films repetitive scenes of characters with huge noses, absurd fiction, funny and intriguing. Ella Mievovsky is involved in an obsessive work with surveillance cameras and their failures. The extracted images are recorded by the omnipotent view of cameras and transformed on canvas. In this work, a raven appears to disrupt the vision. Sandra Vaka Olsen has a conceptual approach of photography and sculpture. She seeks the barely perceptible modifications of the body through the filters of technology. She showcases works that look like swimwear, transparent silhouettes or filled shopping bags.

Body, always. Scrutinized, distorted, desired or reduced to signs. Béla Pablo Janssen draws three women by a tangle of lines, making the depth of the image complex and elusive. Clément Rodzielski's puppets made with fake blood and oil paint are a little larger than the human scale, deployed on the verticality of space as disarticulated members. Antoine Donzeaud also showcases a hypnotizing video, a choreography of hands, as sensual as monstrous.

The exhibition explores the often problematic boundary between the decorative and the artistic, and several works in the show subtly linger in between. Visitors may experience this obscure breach, comfortably sitting at Giger's table, while drinking a coffee.

Interior and the collectors est heureux de présenté l'exposition collective COLLECTION N°6 avec des oeuvres d'Antoine Donzeaud, Hr Giger, Béla Pablo Janssen, Ella Mievovsky, Clément Rodzielski, Mika Rottenberg, Sandra Vaka Olsen, Zoe Williams.

Connu du grand public pour avoir créé le monstre du film Alien (1978), Hr Giger (1940-2014) n'est pas considéré à proprement parlé dans l'histoire de l'art tel un Hector Guimard en son temps. À la fin du XIXème, Guimard a été réduit au seul rôle de décorateur, travaillant pourtant dans un registre large, de l'architecture au mobilier en passant par la peinture, le dessin ou la sculpture. Giger a subit le même sort, un « designer » qui n'a pas sa place au panthéon de l'art. Cité comme référence mais pas comme artiste référent, acclamé tel une rock-star dans la musique et dans l'univers des tatoueurs, il est une source d'inspiration pour nombre d'artistes. Il nous a semblé évident de le présenter aux côtés de jeunes artistes avec un ensemble d'oeuvres méconnues.

L'exposition COLLECTION n°6 présente plusieurs oeuvres méconnues d'Hr Giger. Un dessin de 1978 jamais exposé, une table, des chaises et des lampes aux formes étonnantes. Chaque siège est une pièce unique que l'artiste réalise seul avec son assistant, appliquant lui-même la peinture pour créer des effets de matière marbrée. Le dessin représente une entité fantastique inachevée, peinte spontanément sur la porte du Shepperton Studio de Londres, en pleine genèse de l'univers du film Alien. Comme la créature iconique, son oeuvre protéiforme est presque entrée dans notre inconscient collectif, une oeuvre totale parcourue par de l'érotisme, des symboles, des formes organiques, des monstres, des passages et des dysfonctionnements. Les artistes invités viennent dialoguer à partir de ces points d'entrée multiples sans obéir à une thématique formelle.

Certaines oeuvres jouent avec la perspective du lieu. Antoine Donzeaud présente une peinture réalisée à partir de la photographie d'une porte puis sérigraphiée sur une bâche trouvée dans la rue. Le châssis partiellement apparent et déstructuré donne à voir à travers, l'impression d'inachevé brouille un peu plus nos repères. Zoe Williams met en scène l'espace avec un imposant paravent irrévérencieux en marqueterie représentant des motifs et des symboles sexuels.

D'autres artistes mettent à jour une forme de dérèglement, Mika Rottenberg filme des scènes répétitives de personnages aux nez démesurément gros, une fiction absurde, drôle et intrigante. Ella Mievovsky est engagée dans un travail obsessionnel à partir de caméras de surveillance et de leurs défaillances. Les images extraites, enregistrées par une caméra au point de vue omnipotent, sont transformées par leur changement de support. Dans cette oeuvre, un corbeau vient perturber la vision. Sandra Vaka Olsen a un approche conceptuelle de la photographie et de la sculpture. Elle interroge les modifications à peine perceptible du corps par les filtres de la technologie. Les oeuvres présentées prennent la forme de maillots de bain, des silhouettes plus ou moins transparentes ou remplies comme des sacs de course.

Le corps, toujours. Scruté, désiré, déformé, ou réduit à des signes. Béla Pablo Janssen dessine trois femmes par un enchevêtrement de lignes, rendant la profondeur de l'image complexe et insaisissable. Les marionnettes de Clément Rodzielski réalisées à partir de faux sang et de peinture à l'huile sont un peu plus grandes que l'échelle humaine et se déploient dans la verticalité de l'espace comme des membres désarticulées. Antoine Donzeaud présente également une vidéo hypnotisante d'une chorégraphie de mains aussi sensuelles que monstrueuses.



La frontière entre le décoratif et l'artistique est souvent problématique, plusieurs oeuvres oscillent subtilement entre les deux. Les visiteurs peuvent expérimenter un peu plus cette brèche obscure, s'asseoir confortablement à la table de Giger en buvant un café.




© 2023 Interior and the collectors / Legal terms