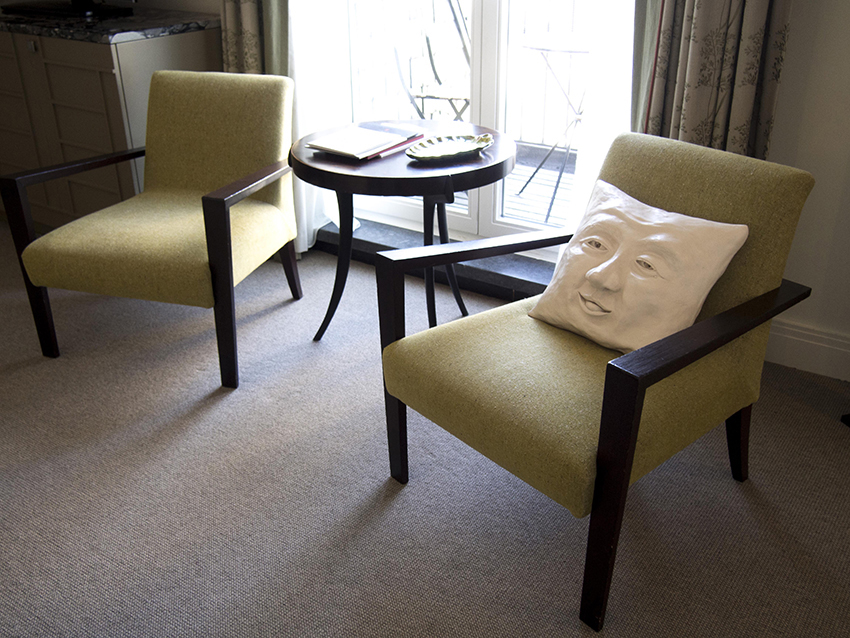 19.04 - 22.04 2018

JEAN-BAPTISTE BERNADET / ALINE BOUVY / WANG DU / ALBRECHT DÜRER / HR GIGER / GREGOR HILDEBRANDT / IŠTVAN IŠT HUZJAN / MICHAEL JONES MCKEAN / ADRIEN MISSIKA / ANNE NEUKAMP / DAVID DE TSCHARNER
Interior and the collectors is pleased to occupy several spaces of hotel Amigo during Artbrussels art fair.

This group show in a luxury hotel pursues one of our constant issue of inhabited space as exhibition space in another context and other constraints. Here, we become collectors and we decide on the choice of artists, not by following a theme or a particular issue but through a more personal logic that allows us to cross genres and mix emerging artists with established artists. The showcased artists are not there to decorate the walls, they bring an added value, a reflection, a way of viewing our time. Some question the limits of our perception of reality, others are buried in the limbo of our unconscious. The palace becomes the ideal place to reveal them.

Appropriating a space is a commitment of trust and a requirement towards the host. Whether one is drinking, eating or sleeping, this is a way to experience a state of mind. It's a frame, an interior space that each customer occupies differently. The constitution of inhabiting has a greater need of poetry, imagination and fantasy. The hotel is not a passageway like any other, it is an inhabited place. The hotel is the opposite of a white cube, It doesn't disappear behind the artworks. Whe-ther in a room, a corridor, an elevator, a vestibule, a meeting room, everything is an excuse to allow a customer to find themselves in front of an artwork. Whatever the time of day, the visitor may appreciate or not this moment but he will have been feeling an emotion.

Interior and the collectors est heureux d'investir plusieurs espaces de l'Amigo pendant la foire Artbrussels.

Cette exposition collective dans un hôtel de luxe est une façon de poursuivre notre problématique d'espace habité comme espace d'exposition dans un autre contexte et avec d'autres contraintes. Ici, nous devenons les collectionneurs et nous décidons du choix des artistes, non pas en suivant une thématique ou une problématique particulière mais à travers une logique plus personnelle qui nous permet de croiser les genres et de mélanger des artistes émergeants avec des artistes confirmés. Les artistes présentés ne sont pas là pour décorer les murs, ils apportent une valeur ajoutée, une réflexion, un regard sur notre époque. Certains interrogent les limites de notre perception du réel, d'autres sont plus enfouis dans les limbes de notre inconscient. Le palace devient le lieu idéal pour les révéler.

S'approprier un espace à vivre est un engagement de confiance et une exigence envers l'hôte. Que ce soit pour prendre un verre, manger ou dormir, c'est une façon d'éprouver un état d'âme. C'est un cadre, un espace intérieur que chaque client occupe différemment. La constitution de l'habiter fait appel à la poésie, à l'imaginaire et à l'onirisme. L'hôtel n'est pas un espace de passage comme un autre, c'est un lieu habité. L'hôtel est l'inverse d'une white cube, Il ne s'efface pas derrière des oeuvres. C'est un écrin qui doit composer avec elles. Que se soit dans une chambre, un couloir, un ascenseur, un vestibule, une salle de réunion tout est prétexte pour permettre à un client de se retrouver devant une oeuvre d'art. Quelque soit le moment de la journée, le client / visiteur appréciera ou pas cet instant mais il aura ressenti une émotion.
© 2020 Interior and the collectors / Legal terms