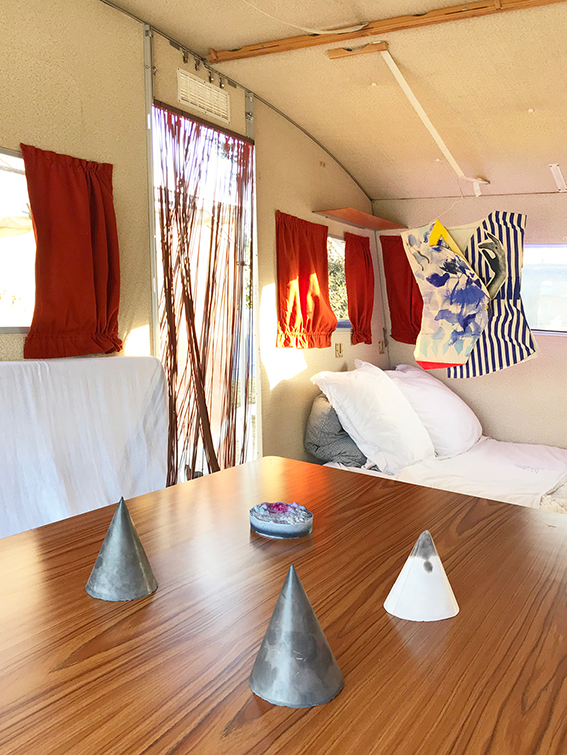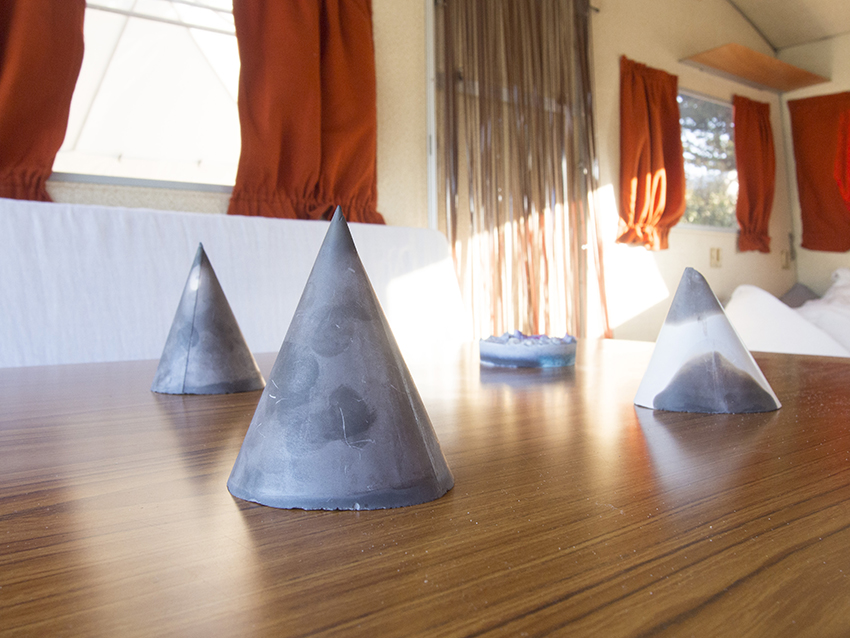 3.08 - 31.08 2018

MARTIN BELOU / PIERRE CLÉMENT / JULIE ESCOFFIER / LAURA GOZLAN / ELLA MIEVOVSKY / FAY NICOLSON / GREGOR HILDEBRANDT / ADRIEN VESCOVI / MARNIE WEBER
Interior and the collectors is pleased to present COLLECTION N°9, RAPIDO, RAPIDO, a new group show in a vintage folding carvan at Camping Domaine Le Midi, Barbâtre, Noirmoutier Island (fr).



Few month ago, we found a 70's folding caravan, the Rapido. It's a mythical model, awar-ded at the french Lépine contest for its astute deployment. Inside it, we showcase a new summer show at a campsite on the Atlantic coast. We use this temporary habitat to develop an exhibition with limited space constraints. The project is set up between a tiny house and a traveling museum. All available spaces are used, the structure of the caravan, camping materials (canvas, foldable and removable furniture, extra light…) and the natural environment.

Exhibiting in a campsite is a way to show art into a context in which the public is not used to experiencing it. A campsite is like a village, with its paths, its infrastructure, its rules and its specificities. Our space has the same look as any other homes. By integrating it into this ephemeral life, we affect the inhabitants within their own habitat, offering them the possibility of reap-propriating works with more freedom than in a museum space.

There is no theme, only the constraints of space guide the different proposals. Nevertheless, all the works are in connection with the idea of a journey, an initiation rite, transformation and time passing.

Interior and the collectors est heureux de présenter la COLLECTION N°9, RAPIDO, RAPIDO, une nouvelle exposition collective dans une caravane au Camping Domaine Le Midi, Barbâtre, Ile de Noirmoutier (fr).

Il y a quelques mois, nous avons trouvé une caravane pliante des années 70, la Rapido. C'est un modèle mythique, primé au concours Lépine pour son astucieux déploiement. A l'intérieur, nous présentons un exposition d'été dans un camping de la côte atlantique. Nous utilisons cet habitat temporaire pour expérimenter une exposition avec des contraintes d'espace limitées. Le projet se situe entre une petite maison et un musée itinérant. Tous les espaces disponibles sont utilisés, la structure de la caravane, les matériaux de camping (toile, meubles pliables et amovibles, lumière supplémentaire...) et l'environnement naturel.

Exposer dans un camping est une façon de montrer l'art dans un contexte où le public n'a pas l'habitude de le vivre. Un camping est comme un village, avec ses chemins, ses infrastructures, ses règles et ses spécificités. Notre espace a le même aspect que n'importe quelle autre maison. En l'intégrant dans cette vie éphémère, nous touchons les habitants dans leur propre habitat, en leur offrant la possibilité de se réapproprier des œuvres avec davantage de liberté que dans un espace muséal.

Il n'y a pas de thèmatique, seules les contraintes de l'espace guident les différentes propositions. Néanmoins, toutes les œuvres ont en commun une idée de voyage, de rite initiatique, de transformation et du temps qui passe.
© 2020 Interior and the collectors / Legal terms